Top 7 'fakeaways' to try making at home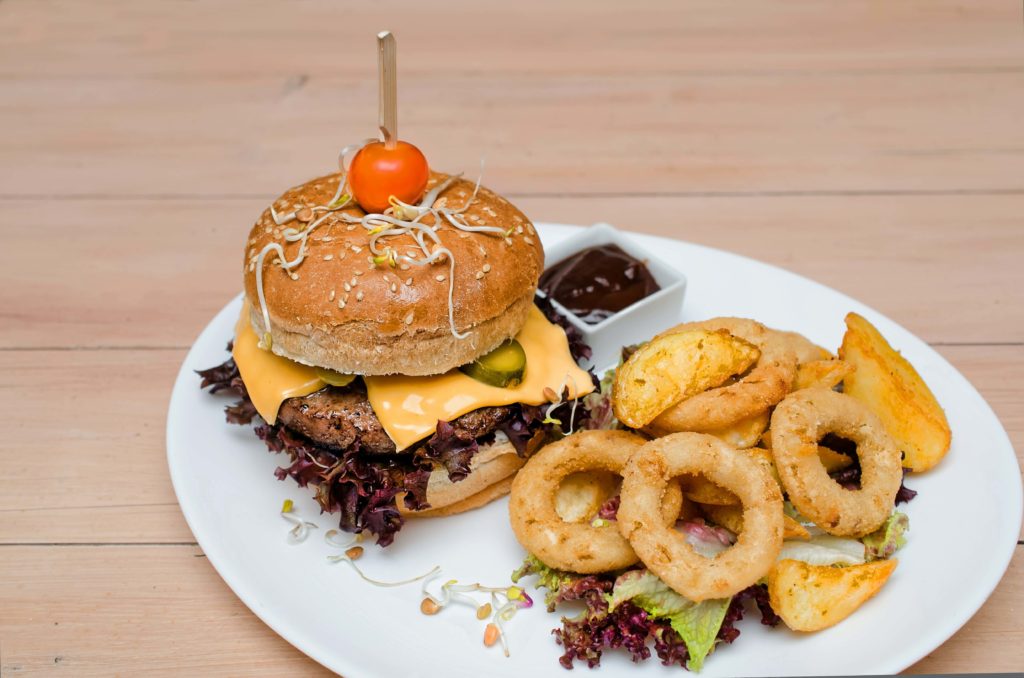 Have you promised yourself you will eat more healthily in 2021? No more fast food and takeaways, did you say? Chances are at this point in the year, you have reverted back to your old ways and had more than one fast food dinner, likely including greasy, fried and unhealthy food. Cooking at home can be hard, especially if you're a student living at student accommodation, and while there are some easy dishes you can make quickly at home, they may not be able to satisfy your cravings for a takeaway!
If you haven't heard of it yet, one of the best ways to trick your mind into thinking you're having a naughty takeaway is to make something called a 'fakeaway' – a takeaway style dish you make at home, packed with fresh and healthy ingredients. Not only do you get to make it exactly how you like it, but also you know what ingredients go into it so you can ensure your nutrition stays great.
Whether you like Chinese food, Indian food, or simple pizza, there are so many recipes to try! Here are some of our favourite ones…
Salt & Pepper Chicken
If you like an occasional Chinese takeaway, you have surely heard of Salt & Pepper Chicken (and maybe even Salt & Pepper Chips!). This local takeaway classic is loved by many, especially students, and while it usually comes full of flavour and spice, it can be quite greasy and high-calorie, But if you think about it and strip it back to basics, it is just chicken with some aromatic spices. Chicken is a great source of protein and a choice of meat that many health experts recommend. While there are many aromatic chicken recipes, the Salt & Pepper Chicken Fakeaway recipe from Pinch of Noms is perfect to help you feel like you're getting a true Chinese meal and it's really easy to make. Could it be the one to treat your flatmates to?
Homemade pizza
Everyone loves a great pizza! Whether it's thin Italian style or with a stuffed crust, it's a timeless takeaway classic that can come with a variety of ingredients and caters for any taste. While pizza generally tends to be a heavy meal, thanks to the dough base, there is a lot you can do at home to make it healthier and still keep the flavours. One of the best hacks in removing the fattiest part of the dish is to replace the dough base with a thin wrap instead. If you follow the recipe from Slimming Survival, you can make a great pizza at home which is both Slimming World friendly and just as tasty as the real thing!
KFC Fakeaway
Is KFC your favourite takeaway? Well, now you can make it at home! Being fairly lean, meaning it has a lower fat and higher protein ratio than other meats, chicken is a popular choice for athletes, people looking for weight loss, and those on a healthy eating plan. So why not make it taste just like it comes from our favourite chicken takeaway? The KFC Fakeaway recipe from Pinch of Noms is a great option for this! There's no need to deny yourself the succulent chicken, crispy coating and not-so-secret spice mix anymore. According to Pinch of Noms, this is a real crowd pleaser of a recipe: not too spicy, yet savoury and full of flavour which is ideal for a fakeaway Friday. And they're even claiming it works out cheaper than a normal weekly takeaway which should be important to anyone living on a tight student budget!
Vegetable Jalfrezi
Living in the world of Covid-19 throughout the last year has meant that many students had to self-isolate at several points of the year, and while there are a variety of things you can do to keep yourself engaged while isolating, cooking and trying new recipes can be a fun activity to occupy your time, particularly if you're isolating with the whole flat! And to keep you healthy (and away from Chinese or Indian curries from the local takeaway), how about trying to make one of those at home? This Vegetable Jalfrezi recipe, a popular Indian takeaway dish, from Jamie Oliver is a great one to try! Sweet and sour flavours work well together, and being vegetable based, it's ideal for those in your household that don't eat meat but still want to enjoy the fun of a 'fakeaway'. Whatever seasonal vegetables you have in the fridge will do the job, and you'll have lots of fun experimenting!
Vegan Thai green curry recipe
All of you vegans out there, we're here for you with another great 'fakeaway' recipe. If you're a fan of Thai food, you've surely heard about and tried Thai green curries before. They're mild and herbaceous and a true Thai kitchen staple. While many of the recipes you can find online include chicken, fish or seafood, it is an amazing dish to make vegan style. There are many ways to do it, for example use tofu as a protein alternative as this Vegan Thai Green Curry recipe recommends. If you're not a fan of tofu though, you can adapt the recipe and use vegetables only. For example, the main veggies in this Thai curry recipe from the Lazy Cat Kitchen primarily includes butternut squash and aubergine.
Orange and Ginger Stir Fry
This wouldn't be a 'fakeaway' blog if we didn't mention stir fry! While this popular dish has long been embraced by many students as an easy and quick meal that you can make at your student accommodation from the most minimal ingredients, it still technically is a takeaway dish. Many Chinese takeaways offer interestingly flavoured stir fries, and while you may love them, who says you can't recreate the same flavours at home? This awesome Orange and Ginger Stir Fry recipe from Slimming Eats offers exactly that – interesting orange taste, a kick from ginger, a well-loved vegetable or chicken filling and it can be ready in minutes! What's not to love?
Burger in a bowl
Oh to be back in a nice cosy pub or beer garden, having a juicy burger with a pint of cold beer… Burgers are one of those meals that, while technically a takeaway, can be found on most pub and restaurant menus and are well-loved by most students. While Covid-19 over the past year has meant that you weren't able to enjoy your favourite burgers in a pub as often as you'd like, they are actually quite easy to recreate at home. And if you're looking for a healthy alternative that still tastes great, try taking away the burger bun! Check out this interesting Burger in a bowl recipe from Skinny Kitchen Secrets. They are completely carb free, come on a nice, varied salad and are still lovely and filling. The recipe also gives you an idea of how to make a burger sauce that tastes just like what you might get from any of the big high street burger brands!