Top 5 recipes to try in your first month at university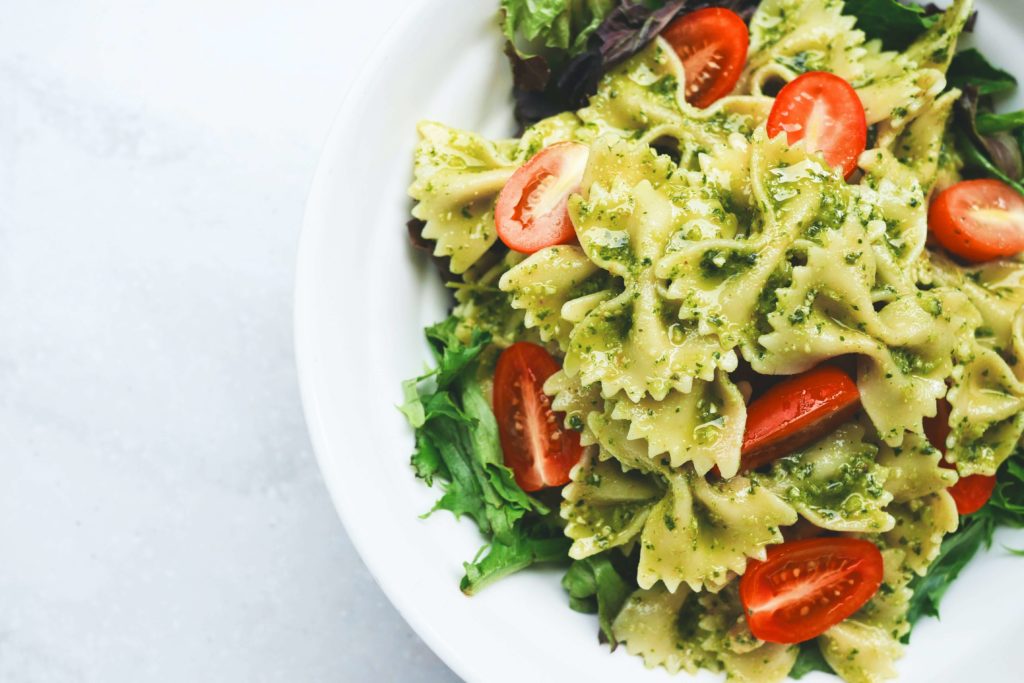 Starting university can be both an exciting and challenging experience. The Welcome Week excitement, moving into your new home-away-from-home and decorating your new room, meeting new friends and getting to know your student accommodation – the new chapter of your life envelops you instantly! But when all the buzz of the first few weeks settles and you start to get into a new university routine and living away from home for the first time, you might find yourself struggling to think of new meal ideas. Cooking for yourself for the first time can be challenging and whilst the internet is full of recipes, it can be hard to know where to start.
Don't fret! We've got some great recipes for you that can be total lifesavers during your first month at uni. Tested and loved by many students that have lived in our student accommodation before, the below five recipes are easy to make, delicious and will get you started in the kitchen even if you have never cooked at home before.
Pesto Pasta – Green or Red, anything goes!
Now if you know anything about being a student, you'll know that pasta (trust us, all types of pasta!) is one of the most common and most loved student meals. While it can sound boring and not the healthiest option, it really doesn't have to be. We recommend trying out some of the gluten-free and vegan pasta options that can be found in the 'Free From' aisles at most supermarkets. Tastes like pasta, looks like pasta, cooks as quickly as pasta, but are a lot healthier for you and a true staple in any student's cupboard.
Pesto Pasta is something that students praise for being a quick and delicious dinner that fills you up after a busy day at university. Just boil your choice of pasta, add some green or red pesto as well as some olives, tomatoes and mozzarella cheese and voila! The easiest, most delicious dinner you can think of.
Homemade pizza
Another staple for students, pizza is not only a well-loved party food but often a quick choice you can order in from a local take away shop if you're studying for your next exam. While it might be easier to order than make it yourself, we highly recommend trying this out! There are so many benefits to doing it at home. For a start, you can buy a pizza base that is both low calorie and vegan, making your pizza less carb heavy. You can choose any topping you like, even the ones you normally won't find on a traditional pizza shop menu. And it's a fun thing to do together with your new flatmates, as you're getting to know each other. After all, you should probably know whether your new friends are 'pineapple on pizza' kind of people!
All you need to do is put a little bit of tomato sauce on your base of choice, decorate it with your pizza topics, cheese and get it in the oven for 20min. What could be better!
Mac and Cheese – Only the best one
If you're a fan of mac and cheese, you will know that while it's generally easy to make, not everyone can do it well. Looking to master The Best Mac and Cheese to treat yourself after completing a huge assignment or doing well in an exam, or want to impress your new flatmates by making it for the Friday night dinner together? During our Abodus Virtual Welcome Week this year, we're going to be learning how to make one together! Join a class with Chefs Compliments and cook up a storm on Tuesday, 29th September at an exclusive interactive class for Abodus residents. Spaces are limited for this event and they will go fast, so sign up with a link below to reserve your place and receive a recipe card with the ingredients you'll need to make this amazing cheesy dish. We will also share all the instructions you need ahead of the time on how to get ready for the lesson.
SIGN UP FOR A COOKING CLASS HERE >>
Stir-fried rice
If you're stocking up on student cupboard essentials, don't forget to get yourself a few boxes of rice, brown or wholegrain are particularly good due to their health benefits. With a bag of rice, you're never more than 15 minutes away from a quick and healthy dish to fill you up. And there are so many options, from one-pan stir-fries that use up those leftover veggies you might have bought a few days before (Fast-fix fried rice) to chicken stir-fried rice that will bring a little bit of Chinese spiciness into your kitchen.
Our favourite in particular is this Egg friend rice with Prawns by BBC Good Food. This delicious Thai style dish can be made in 20min and have lots of nutrients that come from prawns and the green beans. And you don't even have to get any of it fresh, frozen prawns and beans last longer and taste just as good in this dish. Check it out!
Easy Spaghetti Bolognese
Oh we know… Another pasta dish! But how could we make a student recipe list without mentioning Spaghetti Bolognese? And don't even think about using premade sauce from a jar! Bolognese sauce is very easy to make and can become your speciality if you take time to master it in the first few months at university.
We particularly love this Easy midweek spaghetti Bolognese recipe from Delicious magazine. It makes a double batch of sauce, so you can keep half of it in the freezer for another dinner or take it to uni for lunch the next day.
These are only some quick ideas to get you started in the kitchen during your first few months at university. If you have been cooking before and would like to try some new, unique recipes, check out our recent blog on the healthy foods from around the world that you can cook at home. From Chinese Buddha's Delight to a Russian Beef Stroganoff, you won't be disappointed!