Our top Beach Books and River Reads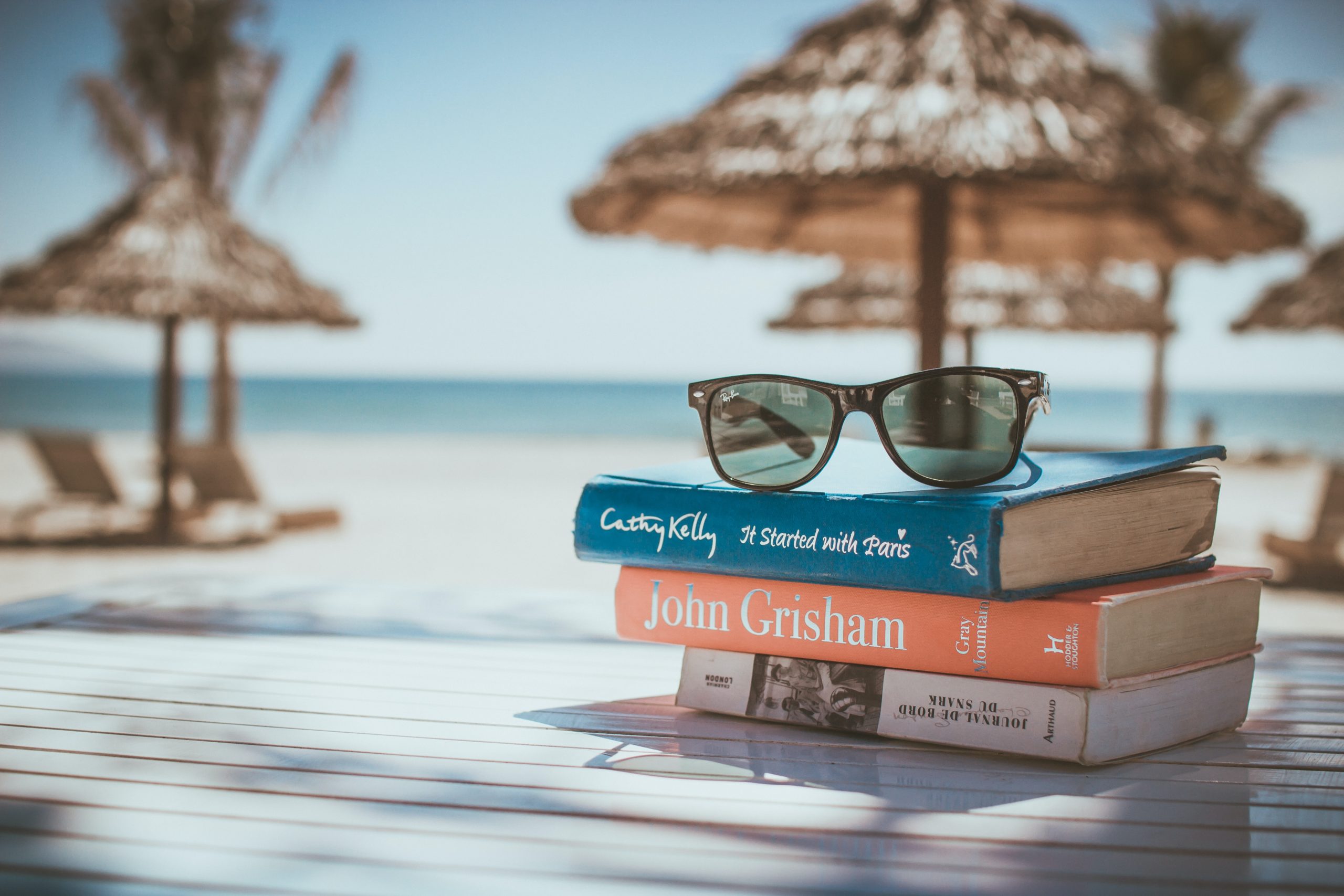 Tis the season to relax, put your feet up and get lost in the world of books. During your summer break you should relish the opportunity to be embraced by a good read, whether that is whilst basking on a beach or lazing in the British sunshine on a staycation – you deserve this break and the best book to keep you company!
Here are some suggestions for your summer reading list. A mixture of romantic reads, edge-of-your-seat thrillers, coming of age comedies and thought-provoking novels that will keep you entertained all summer…
Mad About You – Mahairi Mcfarlane – Romantic comedy
Mahairi Mcfarlane is renowned for her romantic comedy drama novels. This book is filled with engaging, witty characters and explores their journeys through relationships, self-acceptance and friendship.
Mad About You follows Harriet Hatley who is trying to escape her toxic relationship and rushes to move in with a stranger. She then discovers that her new roommate also has skeletons in his closet. Can they escape their pasts together?
Order with Amazon here: Mad about You: The biggest romcom of 2022: heart-warming, laugh-out loud funny and wonderfully romantic: Amazon.co.uk: McFarlane, Mhairi: 9780008412456: Books
The Guest List – Lucy Foley – Mystery
Author of 'The Hunting Party' Lucy Foley writes a thrilling story about a wedding that takes place on the Irish coast. Many of the guests invited have troubled histories together and seemingly hold grudges against one another. Suddenly a guest is found dead on the island and the murder mystery begins…
Have a look at Good Reads review here The Guest List by Lucy Foley | Goodreads
The Thursday Murder Club – Richard Osman – Mystery/comedy
TV's Richard Osman's debut novel is a witty story following four friends in a retirement village that meet up every Thursday to solve murder mysteries. The comic/crime novel expands as they begin to unfold a recent murder close to home.
Last year Osman released the sequel to The Thursday Murder Club – 'The Man Who Died Twice', which see's the fascinating characters return for another entertaining investigation.
You can view Richard Osman's books here: Richard Osman Books | Waterstones
The Woman Next Door – Omotoso Yewande – Fiction
Hortensia and Marion are two elderly neighbours, one black one white, living in post-apartheid South Africa. The two successful women have recently been widowed and have never seen eye to eye with one another.
After years of being sworn enemies, an unexpected accident that affects them both brings them to a complicated alliance which leads them to let down their barriers and learn to trust one another.
The powerful story explores racism, marriage, friendship and many more thought-provoking topics.
It is available to purchase here: The Woman Next Door: Omotoso Yewande: Amazon.co.uk: Omotoso, Yewande: 9781784701376: Books
The Midnight Library – Matt Haig
As the main character Nora comes to her last day on Earth, she is transported to a library. At this library Nora is then given a 'second chance' to undo her previous choices and is now to make the decision whether to attempt to live a different kind of life.
The Midnight Library is a heart-warming story that allows the reader to learn lessons along the way and think about life's limitless possibilities.
Take a look at Matt's website to explore other titles and reviews: The Midnight Library (matthaig.com)
The Heartbreak Bakery – A.R.Capetta – LGBTQ/Young Adult
Syd has gone through a recent break up with his partner of 4 years and channels his energy into baking at the Proud Muffin. Syd then discovers that when people eat his brownie recipe their relationships break up. These magical brownies lead to heartbreak amongst the queer community and now Syd needs to find a way to reverse the magic.
The Heartbreak Bakery is a heartfelt comedy about love, identity and delicious recipes!
You can order it through Goodreads: The Heartbreak Bakery by A.R. Capetta | Goodreads
How to Kill Your Family – Bella Mackie – Novel
This story is told by Grace Bernard, a serial killer who gets away with the murder of six family members but is suddenly put away for a crime she didn't commit…
Bella Mackie's funny and sharp debut novel, How to Kill Your Family is a dark yet witty read that is perfect for fans of Killing Eve!
If you are travelling somewhere or fancy giving your eyes a break, you can listen to the eBook here:
BBC Sounds – How to Kill Your Family by Bella Mackie – Available Episodes
Educated – Tara Westover – Non-fiction
This memoir by Tara Westover reflects on growing up in Idaho and the unconventional, isolated upbringing that she faced. The book highlights the importance of independence and education as it follows her journey to becoming a PhD student at Cambridge University.
Have a look at The Guardians in-depth review as a preview of the memoir: Educated by Tara Westover review – escape from a Mormon fundamentalist family | Autobiography and memoir | The Guardian
The Seven Husbands of Evelyn Hugo – Taylor Jenkins Reid – Historical novel
Journalist Monique is struggling with her personal life and see's an opportunity to propel her career by interviewing and writing about the life and times of old famous Hollywood actress Evelyn Hugo.
 It tells the story of Evelyn seeking fame, her seven marriages and the rollercoaster of being a successful Hollywood actress. The Seven Husbands of Evelyn explores the LGBTQ community and its rise to prominence in old Hollywood.
You can buy the paperback version here: The Seven Husbands of Evelyn Hugo From £5.00 | The Works
If you have read any interesting books that you think would make good summer reads, let us know and we will share them on our socials!