How to Host a Virtual Halloween Party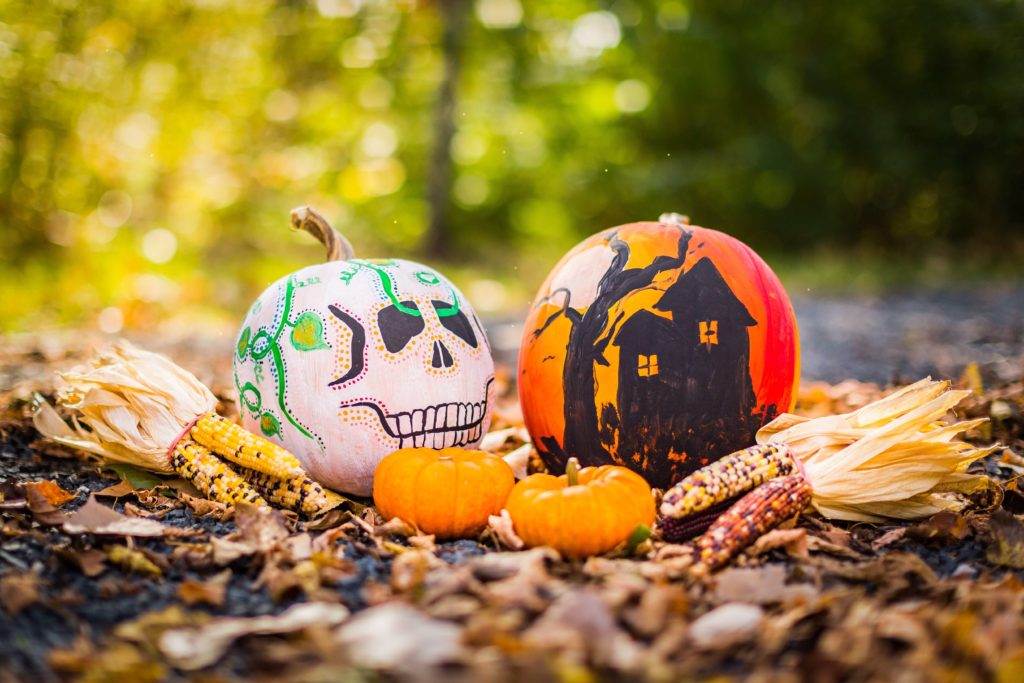 Just because you can't go "out out" for Halloween this year, that doesn't mean you can't still carve out a good time on the night!
The year 2020 has been quite strange, hasn't it? We've spent more time at home than ever before, and we have lived on our devices to stay in touch with our family and friends. (And now that you've moved into your student accommodation, staying in touch with your family and friends is even more important!)
At this point in the year, it's safe to say that we can all add "virtual guru" to our CVs. So, why not use those newfound skills to host one epic virtual Halloween party?!
Here are 10 tips for pulling off a successful Halloween party, all without leaving your flat:
Choose your party-hosting platform
In our technology-driven world, there are endless choices for a virtual party-hosting platform. Whether it's Zoom, Microsoft Teams, Skype, Houseparty, Google Meet or Facebook Rooms, you're sure to find the perfect platform for you and your audience.
Choose your theme
Obviously, you're having a Halloween party, but what type of Halloween party are you having? You could just be hanging out at your flat and drinking with your mates (virtually of course, unless it's with your flat mates), or you could get more into the detail and choose to host a murder mystery party. (Here's a great list to give you some inspiration.) Whatever you choose, be sure to have fun with it!
What's on the agenda?
Once you've chosen your theme, it's time to focus on the details and set the agenda for the night. First, figure out a date for your party and what time you want people to "show up" on the day,choose some fun activities in-between. If you're going to stream a scary movie, maybe you'll want to set aside a few minutes prior to the start of the movie for everyone to virtually mix and mingle. Or maybe you'll tell a scary story to set the tone for the evening!
Create & send your Spooktacular party invitation
You could always go with good old snail mail, but since you're now a certified virtual guru (after all, your CV does say it), why not stick to the virtual trend and invite all of your friends via a Facebook event or a website that specializes in digital invitations, such as Evite or Smilebox?
Put together a chilling & thrilling party playlist
You can put together your own playlist by using your best friend, Google, to find the top Halloween songs. (Check out this fab list from Good Housekeeping. We know this isn't the first place you'd look for a playlist, but just trust us on this!) Or if you're pressed for time, you could even snag a ready-made playlist off Apple Music, Amazon Music or YouTube.
Choose your fancy dress outfit for the night
What Halloween party would truly be complete without a fancy-dress costume? It may be a bit more difficult to get out to the shops to pick out a Halloween costume this year, but that doesn't mean it's an impossible task! Check out Amazon for some great costume choices, or try out your DIY skills and make your own costume!
Make it competitive
Whether it's fancy-dress or lip-syncing, make sure you have some sort of competition going for your party and choose a fab prize to get your guests into the Halloween spirit. (And if you can't afford a physical prize, bragging rights for the next year is always a good choice!)
It doesn't have to be tricky—Stock up on your favourite treats!
Just because you aren't together with all your mates for Halloween this year, that doesn't mean that you can't have some great treats for the occasion! Be sure to encourage your friends to stock up on their favourite party snacks so they and their house mates don't go hungry during the party. If they need a little help figuring out what to munch on, share a list of fun snack ideas with them prior to the party date. (Check out this awesome and affordable list from B&M for a few ideas.)
Sip on something spooky
You can't have a Halloween party without a spooky cocktail! Share the recipe for your favourite potion with your guests ahead of time so that they can sip on something spooky during the party. (Here's one of our favourite cocktails to get you started.)
Get decorating!
This is the most fun of all! Make sure you've got a nice background for your guests to look at during the party, as they will be spending much of their time looking at your space. Make it Spooktacular, and be sure to ask your guests to do the same with their space. You'll also be seeing a lot of their space, and whilst there's nothing more frightening than staring at a screen of white walls the entire party, you might enjoy it a bit more if you're staring at a screen of black and orange instead!