Hot Cross Muffins Baking Class Recipe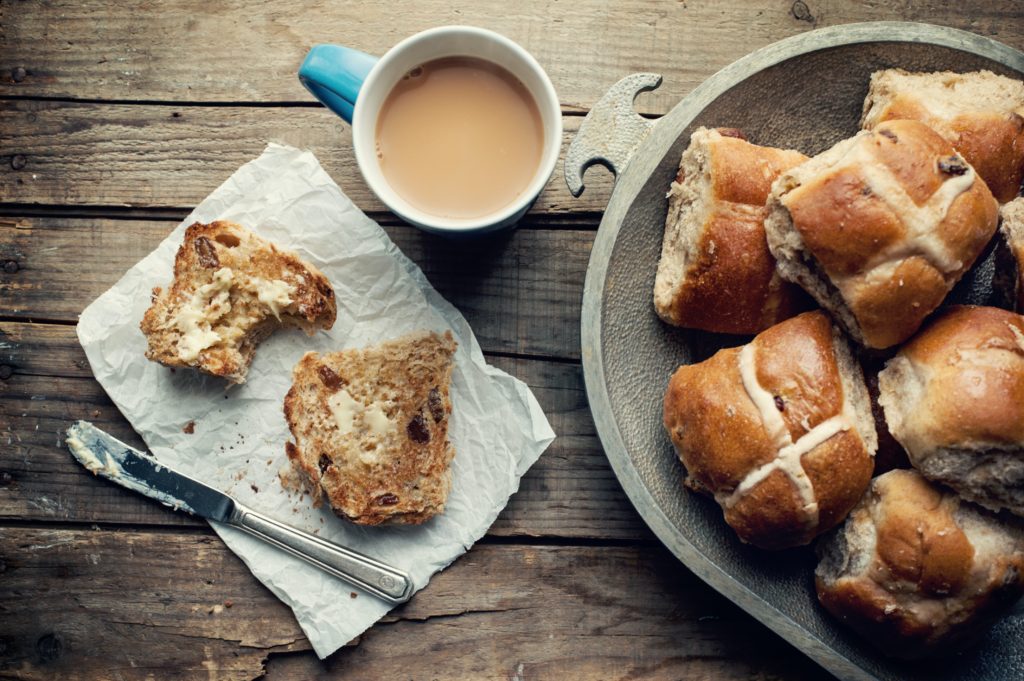 One of the most traditional Easter treats, Hot Cross Buns, are loved by many! But have you ever tried Hot Cross Muffins? If you love these spiced sweet buns, usually eaten on Good Friday, join Hannah Trueman, a nutritionist and dietician, on Thursday, 1st April, from 7pm via Instagram Live for a fun baking class!
Hannah is a healthy food advocate, so we promise her Hot Cross Muffins will not only be delicious and sweet, but also quite good for you.
Check out the recipe below.
Ingredients List
Dry ingredients
160g (approx 1 and 2/3 cup) almond flour
50g (approx 1/3 cup) oat/buckwheat flour – you can make oat flour by blending oats in a food processor or blender. Doves do a buckwheat flour which can be found in most supermarkets)
30g (approx 2 tablespoons) coconut sugar
100g (approx 1/2 cup) sultanas
1.5 teaspoon baking powder (or 1/2 tsp baking soda and 1/2 tsp baking powder)
A pinch of salt (not needed if you are using 1.5 teaspoons baking powder as it already contains salt)
3 teaspoons ground cinnamon
1 teaspoon ground ginger
1/2 teaspoon ground nutmeg
Zest of one orange
Optional chocolate chips
Wet ingredients
80g (approx 1/3 cup) almond/cashew butter or tahini
175 ml (approx 3/4 cup) coconut milk, or any plant-based milk
80ml (apparox)1/3 cup) Maple syrup or honey
3 tablespoons orange juice
For the crosses
2 tablespoons coconut/tapioca flour (or use any flour you have if you can't find these – the whiter the flour the better for the crosses and I find these 2 are the best for that)
1 tablespoons coconut milk
A tiny dash of maple syrup
Method
Preheat oven to 180 degrees C and line a muffin tray with muffin cases, or lightly grease
Add the ingredients for the crosses to a small bowl and mix gently but thoroughly to combine. Set aside
Add all the dry ingredients to a bowl and mix
Combine the wet ingredients in another bowl
Make a well in the centre of the dry ingredients then gradually pour in the wet ingredients, stirring gently as you pour to combine. Your mixture shouldn't be too runny or too thick, you may need to add a little more milk/four depending
Spoon the mixture evenly into your greased/lined muffin tray
Stir the mixture for the crosses then either pipe onto the muffin mix using either a sandwich bag with the corner cut off, or a teaspoon
Bake for 20-25 minutes or until the tops are golden and a knife comes out clean when inserted
Keep in a sealed container for up to 5 days