Abodus Students Say – The Foundry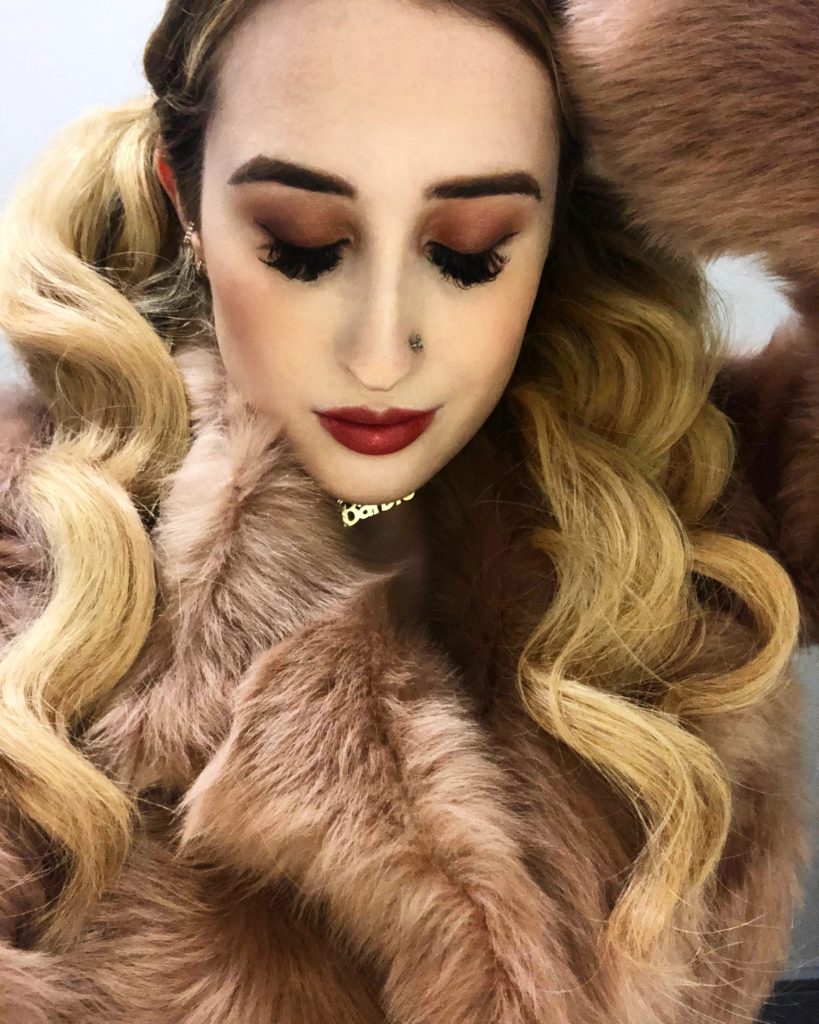 In this third edition of "Abodus Students Say," we're sitting down with Kim Burrows, a resident of The Foundry in Leeds, to ask her all about her experience of living in an Abodus property.
Kim is in her final year at Leeds Arts University, where she is studying Illustration. Kim is severely sight impaired and can only see light, but her sight impairment does not stop her from creating beautiful art. Under normal circumstances, Kim can be found on site with her guide dog, Tammy – Usually in the courtyard playing ball. Unfortunately, due to a surgery to remove a benign tumour from Tammy's ribcage last autumn and the multiple lockdowns in the UK since, Kim and Tammy have been separated for the past five months.
While this has been a difficult year for Kim, she has managed to stay positive and continue the pursuit of her degree with the support of the wonderful site team at The Foundry. Continue reading our interview with Kim below to hear her personal story of how her university experience has been transformed, thanks to the time she has spent in her Abodus accommodation.
In general…
Abodus
How long have you been living at The Foundry?
Kim
In this particular flat? This is my second year, but I've been in building for three years now.
Abodus
So you've been there pretty much your entire university career, haven't you? And have you found the booking process each year?
Kim
Yeah, I have. It's been pretty quick to complete for the most part. Even with my very limited vision, I use a screen reader and I find it very easy to do. And if I ever have any problems, I just go to reception and ask any questions that I have. Particularly, I really have bonded with Michelle here. And if I ever have any questions, I just always asked her and she is more than happy to help me. But the booking process is always really quick and easy.
On events and engagement…
Abodus
Which of our virtual events have you enjoyed most so far?
Kim
The yoga classes are the most perfect [for me]. I would like to do more of them if they ever crop up.
Abodus
Have you seen any of the giveaways we've held on Instagram? Have you entered any of those, and which ones did you enjoy the most?
Kim
Yes, and I entered the Christmas one. I think I actually entered the one with the trainers, too. The trainers one was the one that I was really interested in. I think I'm more of a gift kind of person. It's those kinds of giveaways that I enjoy most.
Abodus
What do you think of the freebies we offer in the reception area?
Kim
I do really enjoy them. I like that we've had more than just food items. We've had the hand wipes, and there's been the recyclable spoon and fork, wasn't it? Yeah, and playing cards and things like that. So, we've had a different range of items to collect and pick up. And then another thing that I thought was really nice was the people who stayed over Christmas had the little goodie bag with some bits and bobs. I thought that was really sweet.
Abodus
Based on everything we offer you as an Abodus resident, do you feel like you're getting the full student experience, outside of just a place to lay your head?
Kim
Yeah, definitely. So it does feel like more of an experience, rather than just an accommodation. With every occasion, there's always something going on and there's always giveaways. And I always look forward to going down to reception to check my mailbox because there's always something going on downstairs. It's really lovely to have a walk down there and find out what everyone's doing and find out what's going on and then the change of decorations and they always put so much into it. And you know, the new giveaways and the new competitions that coincide with that are really nice. Yeah, it's really wholesome, and it gives me a really warm feeling.
On wellbeing…
Abodus
I know that you said at one point, you did struggle a little bit with maintaining kind of your physical and mental wellbeing. How have you been able to maintain that, especially with all of us dealing with the climate of past year? Have you found some ways to kind of deal with that? Is there anything that we've offered that you've taken advantage of to kind of help you?
Kim
Yeah, it's still a struggle. So when we're trying to go through this pandemic, I'm just like, "Okay, as long as I've got some podcasts, some meditation and breathing techniques, and especially the gym downstairs." That's how I'm coping— Meditation, doing a bit of yoga, and using the gym. And since my retinas detached, I can't actually illustrate anymore, so I have to do abstract paintings. That's another thing that's kind of keeping me going is doing a canvas painting every day. My whole flat is just filled with canvas paintings! I need that routine just to keep going. And then just knowing that one day Tammy is going to be back with me— That's just what keeps me going.
Overall…
Abodus
Can you share about your experience of living at The Foundry and with Abodus overall?
Kim
I've always loved being here. It feels like we really matter. And it feels very inclusive, and that we are loved. I feel like I'm loved here, and I do feel like I'm cared for. I have stayed somewhere else [before], and I didn't really feel like that. And the staff, especially Michelle, have always loved me and Tammy. I will reiterate that. I really do feel loved. This really does feel like my home.