5 Reasons Why Liverpool is the Best Student City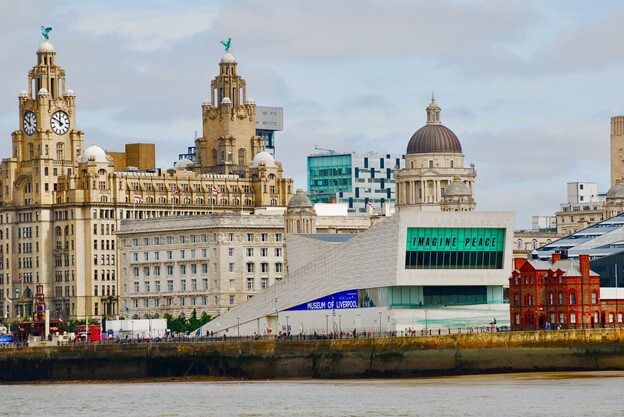 Home to some of the best universities in the world, it is no wonder that Liverpool is chosen by thousands of students throughout the world. The city isn't only abundant in culture, art and history in every corner but also has affordable student housing, great travel options and a raging nightlife for you to live your student life to the fullest. Read on to find out 5 reasons why Liverpool is the best student city:
1. Home To Popular Universities
Liverpool is home to some of the top universities in the UK and in the world. Universities in this city are also known to offer some of the best ranking courses ranging from diverse fields like Medicine, Art, Languages and Theology. Here are the top ranked universities in Liverpool:
University of Liverpool: QS World Ranking: #189
Liverpool John Moores University: QS World Ranking: #801
Some of the top rated courses offered by universities in Liverpool are:
Physiotherapy (University of Liverpool)
Religious studies & theology (Liverpool Hope University)
Art (Liverpool John Moores University)
Building and town and country planning (University of Liverpool)
French (University of Liverpool)
2. University Scholarships in Liverpool
If you're looking for universities offering scholarships to students, Liverpool is a great place to explore. You will find tons of full scholarships to apply for at universities in Liverpool. To help you get started with the processes, here's a list of scholarships you can explore:
Another important question that might cross your mind reading this is when do you need to start applying for scholarships. Let us make this easy for you with these quick tips:
If you're an international student applying for universities in the UK, start looking for scholarships at least 6 months before. You will find tons of scholarships with deadlines ranging between 3-4 months before the college application processes begin. Thus, it is always good to be a month or two ahead to make sure you miss none of the deadlines. Make sure to read the eligibility criteria and keep enough time for the visa application process too.
If you're a UK resident, you can start applying for scholarships 2-3 months prior to university admissions begin. Keep an eye out for sport scholarships at your preferred universities and make sure you read the eligibility requirements in advance.
3. Affordable Housing for Students
One of the many reasons why Liverpool is a great city for students is because of its super affordable student accommodations. Whatever it is that you're looking for- be it shared rooms, private rooms, a private flat or studios, you'll have a lot of options to choose from and find your ideal student accommodation in Liverpool.
Average rent: Let's start with the most important part of living in a city- the rent and living expenses. The average monthly rent in Liverpool is £656 near the city centre and the average monthly living expenses are £658.
Types of accommodation: You will find on-campus and off-campus student accommodations in Liverpool offering 1, 2 and 3 bedroom apartments, shared flats, private flats and studio flats.
Booking channels: There are two different ways you can book a student room for yourself:

One is to book an on-campus room from your university website.
The other is to use an UK online student rooms portal to explore and compare all on-campus and off-campus accommodations in the city to book the one that ticks all your boxes. One of the biggest of such platforms is Unilodgers that allows you to research and compare various student homes at once and gives you personal student advisors to help choose the right places.
4. Various, Convenient Transit Options
Liverpool is a compact city that's easily accessible and makes going around a breeze.
When it comes to exploring the city, being on foot is a great way to immerse yourself. Some other transport options include:
Public transport: Liverpool is well served by buses, trains, taxis and even the world famous Ferry across the Mersey. You can check out the quickest route via public transport through Merseytavel and Traveline Northwest.
Citybike: You can hire a Citybike for as little as £1 a day and £5 a week. Merseyside rail stations operate various schemes, including Liverpool Central and Liverpool South Parkway, where you can hire bicycles daily for just £3.80. You can also buy an annual student membership and get extra credits and discounts on Citybike.
Buses: Quality Bus Network manages the operation of buses in the city. You can also avail of student discounts on bus tickets. For a seamless bus journey at an affordable price check out Arriva and Stagecoach.
Taxis: Two types of taxi are available in and around Liverpool: The hackney-style (or black cabs) and Private hire cabs, which must be pre-booked. Although, students usually get around town by other transit options and taxis are mostly booked to get to and back from Liverpool Airport.
5. Culturally Rich
With a vast array of visitor attractions, Liverpool is not only a great place to live but also a great destination to explore what the city has to offer. With handsome historic buildings as well as lush green gardens and parks with culturally rich museums and relaxing recreational sites – the city has it all! Whether you're a history buff, an art connoisseur, or a sport enthusiast, you'll find something of your liking for sure. Here are some of the best places to visit in Liverpool and some more:
Tate Liverpool – for all the best touring modern art exhibitions.
The Everyman – for fresh theatre in the home of a legendary city.
Anfied Stadium – don a red t shirt and discover the vibe of a million dreams
World Museum – free to visit, an ideal location for a day out
The Beatles Story – We've all been a fan, go ahead and experience the beatlemania
Author Bio :
Unilodgers is the world's first and now largest student housing marketplace. We've been rigorously working towards building a global community that not just benefits students but providers, universities, employees and the cities within which we operate. Using technology, talent around the world, and some lateral thinking, we make the journey towards finding the perfect student home simple, secure, and smooth.
And occasionally we're funny on @unilodgers.