How to be productive in isolation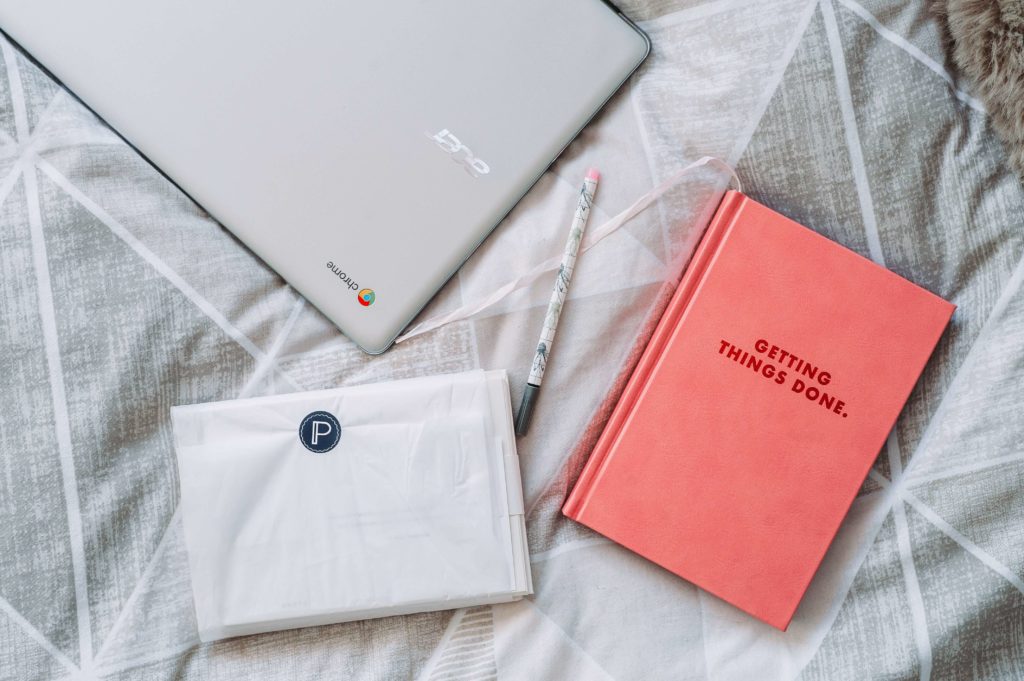 All of us are starting the third week of quarantine in the UK, and even longer elsewhere. While you may have felt completely out of loss without your normal routine and more regular human interaction, you're now probably starting to settle down into some kind of 'new normal'. Whether you're studying or working from home, perhaps you have finally found a spot in your home where you can work and actually achieve things without being bothered or distracted.
But what can you do to keep productive during this time? Working from home or studying without the peace and quiet of a corner desk in a library can be tricky, so we decided to share some of our top tips to keep you productive and achieving even during this stressful time!
Organise your workstation
Your workstation is vitally important for your productivity and can really impact how you feel during and after you finished working. Start with the basics – pick a comfortable chair and try sitting at a table rather than lounging around in your bed or on a sofa. Not only will your back thank you if you're sitting straight and not putting pressure on it, but also you will actually feel like you're at work. This Ergotron Workspace Planner is a useful tool to use, and here are some important takeaways on how you (ideally) should be sitting:
Your feet should be flat on the floor
Your legs should fit comfortably under the desk
Your arms should be resting parallel to the floor
In addition, think about what you have on your desk and how it is all organised. While some people thrive working with a messy desk and piles of paper (in other words, their own organised mess), others need to make sure that there is no clutter around them if they can expect to be productive. Regardless of which one you are, it is very important to organise your desk in a way that makes you feel most centred and at peace. Some experts say that tidying your desk at least once a day (for example) after you finished work is one day to achieve that. We recommend following the philosophy of the Japanese organising expert Marie Kondo, who says that a cluttered desk sucks your time as it makes your brain constantly reassess and try to make sense of what you need to do. So save yourself some time, grab some of those paper files, dividers and posted notes and dedicate some time to ensure that your work desk at home "sparks joy".
Have a schedule or a plan and stick to it
It can be really difficult to create a working environment at home where so many other distractions are around you, so nothing is more important than having a strict schedule and sticking to it. But you need to remember that when you're at home you are your own personal manager and your productivity, especially if you're trying to cram a lot of complex information in your head or complete a long list of outstanding tasks, depends on good time management. Generally, people can focus on any task for about 90 to 120 minutes. After that, we need a 15 to 20 minute break so we can recharge and get ready to do the next task. Keep this in mind when you structure your day. Moreover, make sure you set time limits on calls and video-meetings! Everyone's time is really valuable, and while it can be really important to have online face-to-face discussions with people studying the same subject, it is proven that a set time frame helps people to structure their conversations better and reach a conclusion quicker.
Dress for success
Now this is not really an exact science per say, but there's a reason why we have work attire, why certain offices or organisations require formal clothing, and on the flip side why we wear pyjamas to bed and joggers to exercise. What you wear affects your mood the same way your environment does so when you're working from home it is easy to slip a routine when you spend whole days in PJ bottoms without even noticing. And soon enough you'll see that your productivity is slipping! Don't let yourself get to that stage – start every morning by getting ready and properly dressed as you would if were going to work or to the library to study.
On the other hand, this lockdown provides you with a wonderful opportunity to try various new clothing combinations and experiment the way you couldn't before, whether you worked in the office or frequented a university library every week. It's time to try something bolder, let your imagination fly or even discover a new style!
Turn off your notifications
We all know this; we all understand this and yet most of us are guilty of looking at our phones too much when we're working or studying. Distractions, constant beeping or vibrating, are some of the worst productivity killers! While technology can help us get organised, plan our day and keep in touch easily with colleagues or study buddies with tools like Google Calendar, Trello, Slack, Microsoft Teams and others, it can also be a huge obstacle when it comes to actually getting things done. So turn the volume and the vibrations off, turn your notifications off and only go to your social media when you're having a break and relaxing. Your brain will thank you!
Include breaks, exercise and socialising in your schedule
We already mentioned the importance of having a clear schedule. But don't be confused, this also includes making sure you take breaks and dedicate time to exercising and socialising. According to a recent survey, home workers are 52 percent less likely to take time off work. Which then means that not only their health and social life suffers, but also it affects their productivity. And you might be thinking, well how am I supposed to stay active and socialise with people when I'm only allowed to leave the house for one exercise? Well, start with making the best use of that hour. Schedule it in for the morning when you're fresh and raring to go, or in the evening after work when you need to rest and clear your head.
Finally, don't forget we live in a technology world and so exercise and keeping in touch with your family and friends is made easy by the variety of apps. This is where technology really excels and can provide you with solutions that you didn't know you needed before this lockdown. Some of our favourites are Daily Burn and Houseparty. The first one allows you to access a large library of exercises to keep you active and healthy, while the second one has gained popularity recently as one of the best means to have video chats and video parties with many people at the same time. Whatever you do, just remember – your productivity is not only affected by how you work, but also by how you spend your time when you're not working!