Have yourself an eco-friendly Christmas!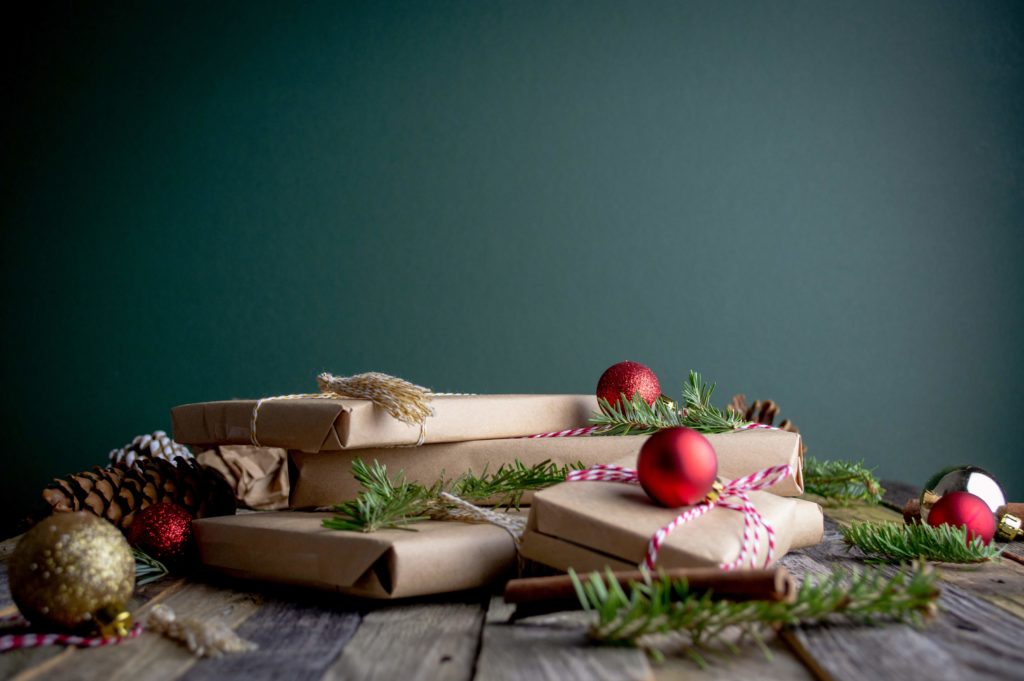 The Christmas season can be such an exciting time of year. From the lights and decorations, to the baking and festive music, what's not to love?!
While this is a fun and exciting time, some of the biggest concerns during this time of year seem to be spending too much money and creating too much waste. So, how can we do our part to keep Christmas low-waste and low-tox, while also enjoying the festive period? Read on below to find out!
Decorations. Did you know that your halls can be decked beautifully without harming the planet? Check out these top tips on how to do that:

Your tree. In terms of your tree, think of buying a fake one that you can reuse year after year, buying one second hand or even renting a real one that you can return to be replanted for the following year. And if you insist on getting a real tree that can't be replanted, make sure that you are disposing of it properly so that it doesn't end up dumped in a landfill. If you need any more of a reason to make sure your tree is as low-waste as possible, check out this video, which outlines the negative impact that Christmas trees – both real and fake – can have on the environment.
Your lights. This one might be simple, but it can make a huge difference! In the first instance, purchase LED lights wherever possible. Here's why LED lights are so important when considering an eco-friendly and low-tox approach to Christmas. Also, to conserve energy, look at battery operated lights and light packs. For an extra eco-friendly option, why not look for LED, battery operated Christmas lights?! You can find some beautiful and affordable options from online shops such as Festive Lights and Light in the Box.
All other decorations. When decorating your flat, why not consider buying a reusable garland out of sustainable products, whilst also supporting a small business? Etsy is the perfect option for items such as this! You can also make a simple foraged wreath for your front door using this method. However you choose to decorate your space, try considering the most low-waste and low-tox option available to you. This from My Mundane and Miraculous Life lists some really great items to consider when decorating your student accommodation for the holidays, to ensure that you aren't harming the planet while getting into the Christmas spirit.

Cards and Gift Wrap

Make your own Christmas cards. Hone your DIY skills by saving Christmas cards that you've received in past years, as well as tags from gift bags and presents. You can cut the photos from the front of old Christmas cards and use those and the gift tags you've saved to create new Christmas cards for this year.
Go virtual with your Christmas cards. If you are trying to cut down on cost and waste, this might be your best option. By creating and sending a virtual card, you aren't paying for postage, reducing your carbon footprint, and you are saving yourself a pretty penny in the process! Check out virtual Christmas card company, which allows you to make yourself into an elf and show off your sick dance moves, which will guarantee a laugh amongst your family and friends. (After the year we've all had, a laugh is definitely needed!) For more interactive virtual Christmas cards, check out JibJab and 123cards.
Reuse old gift bags and wrapping paper. Did you know that most gift bags and wrap can't be recycled? The first (and probably easiest) step to take in reducing waste during Christmas is to reuse old gift bags and wrapping paper. Save your Christmas gift bags and wraps, store them in a box (or a large gift bag!) and reuse them the following year. Chances are, if someone ends up with the same gift bag or wrapping paper that they gave you the year before, they won't remember. And if they do, it will make for a good laugh and an even better conversation piece around what you're doing to reduce waste during the festive season!
Go for eco-friendly gift wrap options. According to GWP, "Consumers in the UK will use 227,000 miles of wrapping paper each year – over 83km2 of this will end up in our bins." So, how can we do our part to lower this number this year? By opting for more eco-friendly gift wrap options! Some great low-waste (and even zero-waste!) gift wrap options that you could choose over commercial wrapping paper includes old newspaper, recycled wrapping paper, reusable fabric bags (think Santa Sacks!) and even seed gift wrap! If these options aren't enough for you, check out this blog from Earth Friendly Tips for even more ideas on how to reduce wrapping paper waste this Christmas.

Gifts

Buy what they really want and/or need. There is something magical in surprising your loved ones for Christmas, but it can also be a bit tricky to make sure that what you are surprising them with is something that they want or need. First off, if the gift they are receiving isn't something that the want or need, will they really enjoy it? More importantly, will they use it? If they aren't using the gift that you give them, will it then go to waste and end up in a landfill? These are all important questions to ask yourself when you begin your Christmas shopping for your loved ones. This is also why sometimes, the best thing that you can do is to come out and ask them exactly what they want or need for Christmas, so you know that their gifts will be well-used and not go to waste! (Besides, who can complain at getting months' worth of their favourite toiletries, which will save them loads of money, versus receiving the tenth Christmas mug of the season, which they will eventually throw out or donate?!)
Gift experiences. We have made this point time and again in both our Christmas budgeting blog and our alternative Christmas gifts blog, and that is because "experiences over stuff" is a tagline that many of us can get behind. Will you always have that sweater that you so desperately wanted? Probably not. (And unfortunately, it will probably eventually end up in a landfill.) But will you have the memories from that trip to the theme park or the play that you went to see with your best friend? Absolutely!
Buy second hand. This is another point that we have made repeatedly, and that is because there are so many benefits to purchasing items second hand, including reducing your environmental impact. You can read more of the benefits of buying second hand here, and if you're in need of a little inspiration on where to buy second hand items for your family, friends and flat mates this Christmas, think charity shops, websites such as Facebook Marketplace, or selling apps such as Vinted. (Here's another tip: List your items on Marketplace and selling apps to both reduce the risk of them ending up in landfills and to make some extra money that you're sure to be spending on buying your loved ones their Christmas gifts from said platforms!). We've said it before, and we'll say it again: Second hand does not mean second best!
In this season of giving, we hope this blog has left you feeling inspired to give back to the Earth. After all, there is no Planet B, so we must look after the one we've got!